Epson LQ 310 Dot Matrix Printer
YOUR FAST AND AFFORDABLE PRINTING SOLUTION Designed to do more with less, Epson LQ-310 offers fast-printing at a low cost. Compact and capable, Epson LQ-310 24-pin dot matrix printer features extraordinary speed, output quality and reliability. Epson's constant innovations in printing solutions give you the best performing printer that suits your fast paced environment.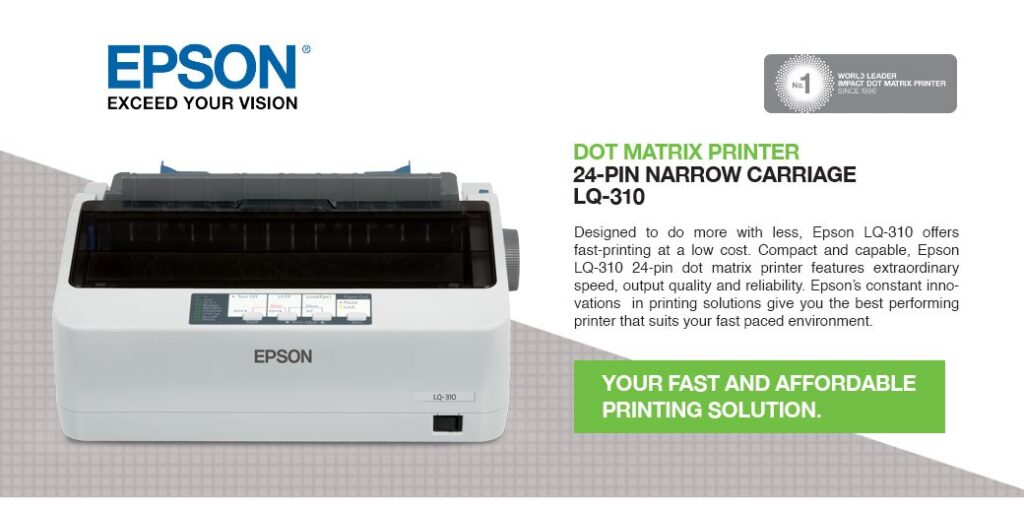 WHY THE Epson LQ 310 Dot Matrix Printer?
Building on its reputation as the world's top dot matrix printer maker, Epson has introduced the
Epson LQ-310 as the next-generation narrow carriage, 24-pin model that replaces the legendary LQ-300,
featuring vastly improved speed and reliability.
Extreme Speed
The Epson LQ-310 features a 128KB input data buffer memory that is double that of its predecessor.
This enables it to achieve high printing speeds of up to 416 characters per second at 12 CPI – 
or almost 40% faster than the model it replaces.
Improving on Legendary Reliability
The Epson LQ-310 also has an improved reliability rating that is an astonishing 67% higher than its
predecessor that was already renowned for its dependability. The LQ-310 is rated for a mean time before 
failure (MTBF) of 10,000 POH (power on hours) compared to the older model's 6,000 POH.

High Impact for Multiple Carbon Copies
Achieve optimum efficiency with the LQ-310's ability to create up to a 4-part form printout
Flexible Connectivity
With built-in USB, Serial and Parallel Interface options, the LQ-310 is able to connect to just
about any output device you need it for.
TECH SPECS

MODEL NUMBER
LQ-310
Epson LQ 310 Dot Matrix Printer Printing Technology
Print Method
Impact dot matrix
Number of Pins in Head
24 pins
Print Direction
Bi-direction with logic seeking
Control Code
ESC/P2 and IBM PPDS emulation
Epson LQ 310 Dot Matrix Printer Print Speed
High Speed Draft10/12 cpi
347 / 416 cps
Draft10/12/15 cpi
260 / 312 / 390 cps
Draft Condensed17/20 cpi
222 / 260 cps
LQ10/12/15 cpi
86 / 103 / 129 cps
LQ Condensed17/20 cpi
147 / 172 cps
Print Characteristics
Epson LQ 310 Dot Matrix Printer Character Sets
Italic table, PC437 (US Standard Europe), PC850 (Multilingual), PC860 (Portuguese), PC861 (Icelandic), PC863 (Canadian-French), PC865 (Nordic), Abicomp, BRASCII, Roman 8, ISO Latin 1, PC 858, ISO 8859-15
Bitmap Fonts
Epson Draft: 10, 12, 15 cpi; Epson Roman & San Serif: 10, 12, 15 cpi, Proportional; Epson Courier: 10, 12, 15 cpi; Epson Prestige: 10, 12 cpi; Epson Script, OCR-B, Orator & Orator-S: 10cpi; Epson Script C: Proporational
Barcode Fonts
EAN-13, EAN-8, Interleaved 2 of 5, UPC-A, UPC-E, Code 39, Code 128, Postnet
Printable Columns
Pitch10/12/15/17/20 cpi
80 / 96 / 120 / 137 / 160 cpl
Paper Handling
Paper Path
Tractor
Rear in, Top out
Manual Insertion
Rear in, Top out
Paper Size
LengthWidthThickness
Cut Sheet (Single Sheet)
100 – 364mm
(3.9 – 14.3″)100 – 257mm
(3.9 – 10.1″)0.065 – 0.14mm
(0.0025 – 0.0055″)
Cut Sheet (Multi Part)
100 – 364mm
(3.9 – 14.3″)100 – 257mm
(3.9 – 10.1″)0.12 – 0.32mm
(0.0047 – 0.0126″)
Envelope (No.6)
92mm
(3.6″)165mm
(6.5″)0.16 – 0.52mm
(0.0063 – 0.0205″)
Envelope (No.10)
105mm
(4.1″)241mm
(9.5″)0.16 – 0.52mm
(0.0063 – 0.0205″)
Continuous Paper (Single Sheet an Multi part)
101.6 – 558.8mm
(4.0 – 22.0″)101.6 – 254.0mm
(4.0 – 10.0″)0.065 – 0.32mm
(0.0025 – 0.0126″)
Roll Paper
NA216mm
(8.5″)0.07 – 0.09mm
(0.0028 – 0.0035″)
Paper Feeding
Standard
Friction, Push Tractor
Optional
Roll Paper Holder
Copies
Original + 3 copies
Line Spacing
4.23mm (1/6″) or programmable in increments of 0.118mm (1/216″)
Input Data Buffer
128KB
Interface
Standard
Bi-directional parallel interface (IEEE-1284 nibble mode supported)
USB 2.0 Full-Speed
Serial
Epson LQ 310 Dot Matrix Printer Ribbon Cartridge
Standard
Fabric Ribbon Cartridge (Black)
Ribbon Life
Approx. 2.5 million characters (Draft 10cpi, 48 dots/character)
Acoustic Noise
Approx. 53dB(A) (ISO 7779 pattern)
Reliability
Mean Print Volume Between Failure (MVBF)
Approx. 20 million lines (Except print head)
Mean Time Between Failure (MTBF)
Approx. 10,000 POH (25% Duty)
Print Head Life
Approx. 400 million strokes/wire
Control Panel
4 switches and 5 LEDs
Environmental Conditions (Operating)
Temperature
5 ~ 35°C
Humidty
10 ~ 80% RH
Electrical Specification
Rated Voltage
AC 120V / AC 220 – 240V
Rated Frequency
50Hz – 60Hz
Power Consumption
Operating
Approx. 22W (ISO/IEC 10561 Letter pattern),(ENERGY STAR compliant)
Sleep Mode
Approx. 1.0W (120V) / 1.3W (230V)
Auto Off Mode
Approx. 0.5W
Power Off
0W
Epson LQ 310 Dot Matrix Printer Driver / Utility
Operating System
Microsoft® Windows® 2000 / XP / 7, Microsoft® Windows Vista®
Utility
Epson Status Monitor 3
Microsoft® Windows® 2000 / XP / 7, Microsoft® Windows Vista®
Epson Printer Setting
Microsoft® Windows® 2000 / XP / 7, Microsoft® Windows Vista®
Functions
Print
Technology
Method: Impact dot matrix
Number of Pins
Epson LQ 310 Dot Matrix Printer 24 pins
Epson LQ-310 Dot Matrix Printer
Speed
Print:10/12 cpi, 347/416 cps, Draft: 10/12/15 cpi 260/312/390 cps, Condensed: 17/20cpi 222/260 cps
MTBF
Approx. 10,000 POH (25% Duty)
Print Head Life
Approx. 400 million strokes/wire
Character Sets
Italic table, PC437(US Standard Europe), PC850 (Multilingual), PC860, (Portuguese), PC861 (Icelandic), PC863 (Canadian-French), PC865 (Nordic), Abicomp, BRASCII, Roman 8, ISO Latin 1, PC 858, ISO 8859-15
Epson LQ 310 Dot Matrix Printer Supported Bitmap Fonts
Epson Draft: 10, 12, 15 cpi; Epson Roman & San Serif: 10, 12, 15 cpi, Proportional; Epson Courier: 10, 12, 15 cpi; Epson Prestige: 10, 12 cpi; Epson Script, OCR-B, Orator & Orator-S: 10cpi; Epson Script C: Proportional
Supported Scalable Fonts
Epson Roman, Epson San Serif, Epson Roman T & Epson San Serif H: 10.5pt., 8pt. – 32pt. (every 2pt.)
Barcode Sets
EAN-13, EAN-8, Interleaved 2 of 5, UPC-A, UPC-E, Code 39, Code 128, Postnet
Envelopes Media
No.6 : Length-92 mm, Width-165 mm Thickness-0.16 ~ 0.52 mm, No.10 : Length-105 mm, Width-241 mm Thickness-0.16 ~ 0.52 mm
Continuous Paper
Paper Path: Tractor & Manual Inseration: Rear in, Top out
Roll Media Handling
216mmx0.07-0.09mm, Roll Paper Holder
Multipart Copy
Original + 3 copies
Print Direction
Bi-direction with logic seeking, Tractor: Rear in, Top Out, Manual Insertation: Rear in, Top Out.
Emulation
ESC/P2 and IBM PPDS emulation
Memory
Data Buffer: 128KB
Supported Consumables
Ribbon Cartridge Black: 2.5 million characters – S015634
Interface
Bi-directional parallel interface (IEEE-1284 nibble mode supported), USB 2.0 Full-Speed, Serial
Control Panel
Display: 4 switches and 5 LEDs
Voltage
AC 120V / AC 220 – 240V
Rated Frequency
50Hz ~ 60Hz
Power Consumption
Opearting: Approx. 22W (ISO/IEC 10561 Letter pattern), (ENERGY STAR compliant), Sleep Mode: Approx. 1.0 W (120V) / 1.3 W (230V), Auto Off Mode: Approx. 0.5W, power Off: 0W
OS Compatibility
Microsoft® Windows® 2000 / XP / 7, Microsoft® Windows Vista®
Environment
Temperature: 5 ~ 35°C, Humidity: 10 ~ 80 % RH
Dimension
362 x 275 x 154 mm
Epson LQ 310 Dot Matrix Printer Weight
4.1kg