Canon 045 Toner Black Cartridge
Canon 045 Toner Black Cartridge is a replacement toner cartridge for Canon monochrome laser printers. It is manufactured in an ISO-9001 certified factory under high-quality standards that meet the specifications and performances of the OEM Canon 045 Toner Black Cartridge.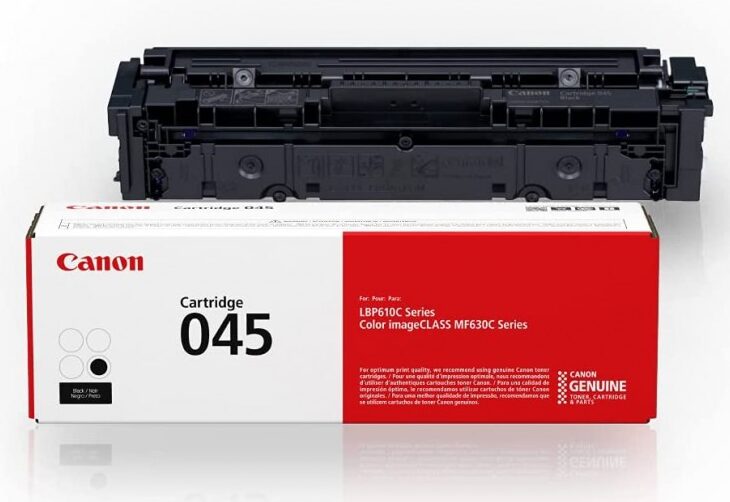 Compatible Printer Models Canon MF630C  Series
This is a genuineCanon 045 Toner Black Cartridge – it has been designed to work with a range of Canon printers, details of which are provided below. This laser toner cartridge will print around 1,600 A4 pages at 5% coverage.
Description
Canon 045 Toner Black Cartridge
Printer Models fits with Canon 045 Black Toner Cartridge
Canon Color imageCLASS MF632CDW Printer
Canon Color imageCLASS MF634CDW Printer
Canon Color imageCLASS LBP612CW Printer
Canon Color imageCLASS MF635CX Printer
Yields 1,400 pages.

Canon has poured all the Know How of its extraordinary history of developing innovative office machines into each of its copiers, printers, and networked office systems. The same superiority of design and manufacture goes into all of the Canon-branded consumable imaging supplies and parts for this equipment.

Using genuine Canon parts and supplies is your best insurance against equipment damage, and possibly voiding your equipment warranty.

Recycling solution – designed to encourage recycling, helping you divert materials from landfills.

Single Cartridge System for easy replacement
---
From the manufacturer
Genuine Canon Imageclass Toner 045 Black, Standard
When you choose a Canon printer, you're investing in quality, reliability and value. Canon ingenuity has earned many patents for its toner bottles, cartridges, drums, parts and toner. Genuine Canon Toner 045 Black yields approximately 1,400 pages (ISO / IEC Standards).
Made for each other
Your Canon device was made to work with Genuine Canon supplies.
Genuine Canon products are designed to perform better than imitators because they've been specifically engineered for Canon devices, by the same engineers who design these devices.
All imageCLASS toner is made with Canon-approved materials, in Canon facilities, to Canon standards.
Naturally, no one makes better parts and supplies for Canon products than Canon.
Why are Genuine Canon supplies recommended?
Enhanced quality, performance and life cycle of your Canon equipment.

High yields, superb performance and high quality output.

Minimal jamming or malfunctioning of equipment

Minimal smearing, smudging and streaking.
Key Features
Service and Support

Canon's 100% U.S.-based, friendly, and knowledgeable Customer Service Team provides expert assistance for every level of experience.

Made For Each Other

GENUINE Canon products are designed to perform better – they've been specifically engineered for Canon devices.

Genuine Canon Hologram

Always look for the Canon logo and GENUINE Canon logo on all your Canon supplies.

Recycle and Recovery

In 1990, Canon became one of the first companies to collect and recycle used All-in-One toner cartridges. To learn more, please visit the website.
Toner- A toner cartridge, also called laser toner, is the consumable component of a laser printer. Toner cartridges contain toner powder, a fine, dry mixture of plastic particles, carbon, and black or other coloring agents that make the actual image on the paper. The toner is transferred to paper via an electrostatically charged drum unit and fused onto the paper by heated rollers during the printing process.