Epson PLQ 35 Dot Matrix Passbook Printer
A 24-pin dot matrix passbook printer, designed as an economic solution, offering reliability, as well as fast printing and a modern design.
The PLQ-35 is a dot matrix printer that is affordable, ultra-reliable and has the capability to handle passbooks. The product is able to replicate previous emulations, which reduces the need for retraining.
Affordable Cost effective alternative to other passbook printers
Fast performance Prints up to 540 characters per second with 6+1 copies
Reliable Significantly increased mean time between failure rate of 35,000 hours
Compatible consumables Same long-lasting ribbons compatible with all models
Design Improved, modern design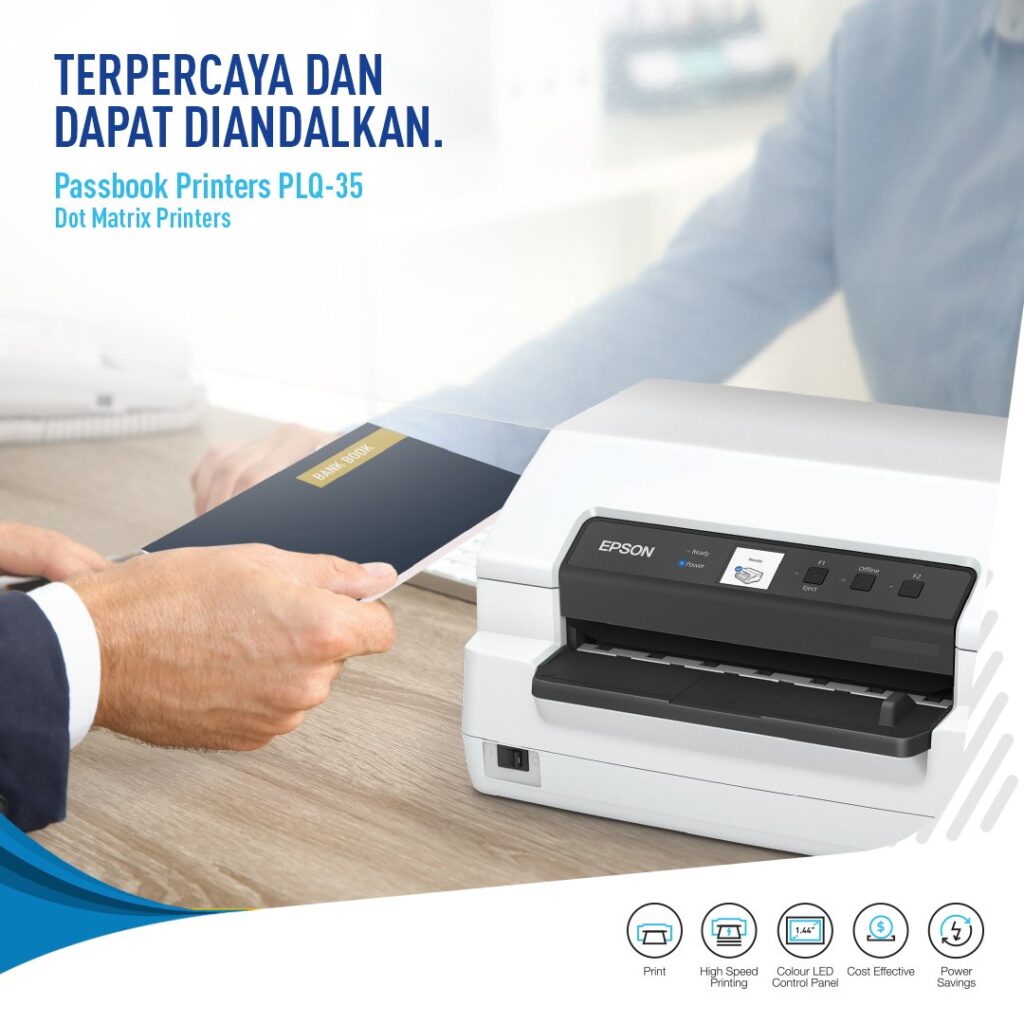 Print Speed: up to 540 cps (10 cpi)
Mean print volume between failure (MVBF) of 21 million lines
Mean time before failure (MTBF) of 30,000 POH
Printing
| | |
| --- | --- |
| Maximum print speed | 540 cps |
| Maximum resolution | 180 x 360 DPI |
| Maximum printing width (columns) | 94 |
| Maximum print speed (draft) | 360 cps |
| Maximum print speed (LQ) | 120 cps |
| Maximum print speed (NLQ) | 180 cps |
| Character pitch | 10 cpi |
| Maximum number of copies | 6 copies |
| Built-in barcodes | CODABAR (NW-7), Code 128 (A/B/C), Code 39, EAN13, EAN8, Industrial 2/5, Interleaved 2/5, Matrix 2/5, POSTNET, UPC-A, UPC-E |
| Bitmap fonts | Courier, Draft, OCR-B, Orator, Orator-S, Prestige, Roman, Sans Serif, Script, Script C |
| Scalable fonts | Roman T, Sans Serif H |
| Character sets | PCAPTEC, PC437, PC708, PC720, PC850, PC858, PC864, PCAR864, ISO 8859-15, Roman 8, Italic |
| Number of characters | 14 |
Paper handling
| | |
| --- | --- |
| Multi-part paper thickness range | 0.12 – 0.53 mm |
| Single sheet thickness range | 0.065 – 0.19 mm |
Features
| | |
| --- | --- |
| Colour | White |
| Buffer size | 128 KB |
| Sound pressure level (printing) | 55 dB |
| Page description languages | Epson ESC/P2, PPDS |
| Country of origin | Indonesia |
Ports & interfaces
| | |
| --- | --- |
| Standard interfaces | Parallel, RS-232, USB 2.0 |
Endurance
| | |
| --- | --- |
| Print head | 24-pin |
| Print head life | 400 million characters |
| Mean time between failures (MTBF) | 35000 h |
Power
| | |
| --- | --- |
| Power consumption (typical) | 61 W |
| Power consumption (standby) | 0.7 W |
| AC input voltage | 220-240 V |
| AC input frequency | 50/60 Hz |
Operational conditions
| | |
| --- | --- |
| Operating temperature (T-T) | 5 – 38 °C |
| Storage temperature (T-T) | -30 – 60 °C |
| Operating relative humidity (H-H) | 10 – 85% |
Weight & dimensions
| | |
| --- | --- |
| Width | 384 mm |
| Depth | 280 mm |
| Height | 203 mm |
| Weight | 7.8 kg |
Packaging data
| | |
| --- | --- |
| Quantity per pack | 1 pc(s) |
| Package width | 365 mm |
| Package depth | 455 mm |
| Package height | 255 mm |
| Package weight | 9.27 kg |
Other features
| | |
| --- | --- |
| Print technology | Dot matrix |
| Needles | 24 (2 x 12) |
Technical details
| | |
| --- | --- |
| Harmonized System (HS) code | 84433210 |
Logistics data
| | |
| --- | --- |
| Products per pallet (UK) | 48 pc(s) |