Epson 24″ SureColor SC-T3130X Technical Plotter
Distinctive Quality Meets Endless Possibilities
Take your ideas to a bigger scale with greater performance and precision with the Epson SureColor SC-T3130X printer. With PrecisionCore printheads to bring fast printing speeds, seamless work process and top-class accuracy in every print, showcase your ideas and plans in a big way right down the finest detail.
Epson's first technical printer with CISS ink tank for continuous ink supply
24-inch Technical Printer for high quality, accurate prints
Compact, user-friendly and anti-dust design
4.3" touch panel for easier usability
Wireless connectivity with Wi-Fi, Wi-Fi Direct and AirPrint*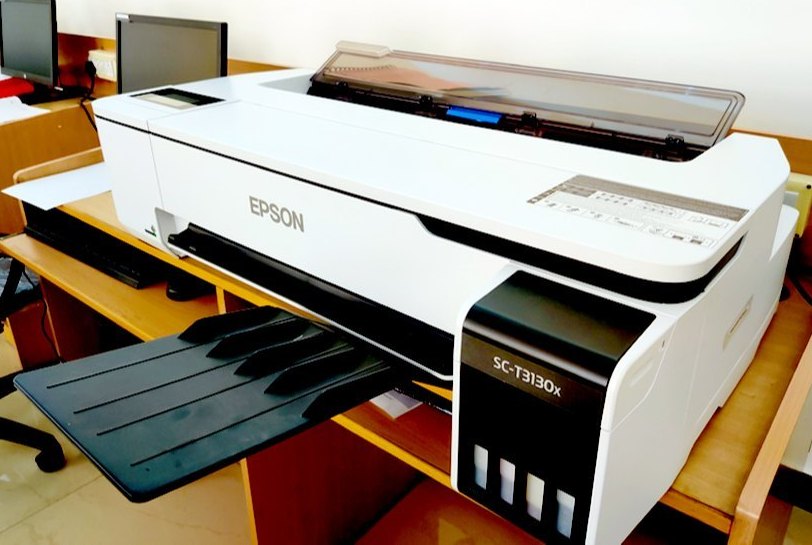 Compact, User
Friendly Design
Small Footprint
Sleek and minimally designed, the T-series is of a comfortable size that fits into tight work spaces effortlessly. At just 970 x 245 x 577mm without the stand, the SC-T3130X has one of the smallest footprint in its class.
Clean design
In addition to being white and compact, the SC-T3100 boasts an eye-catching look and feel that stands out from the crowd, fits most environments and satisfies the design conscious.
Ideal For Corners
As the printers are built for a full front operation, it can be placed ideally in any corner of the office, without taking up too much space.
User Convenience In Mind
Designed with the user in mind, the printer will print and cut printouts without dropping it from the printer, until it is ready to be collected.
Ergonomically Design
The T-series printers' smart design can cater to users of different heights to help make it comfortable for them to load the media as well as to operate the printers.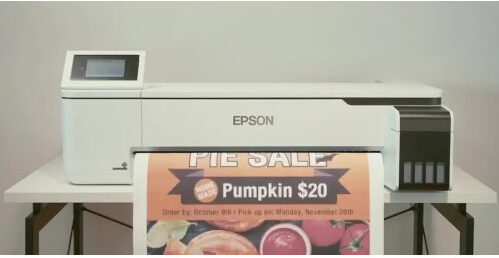 Trusted Productivity
Continuous Ink Supply System (CISS)
The SC-T3130X is fitted with a Continuous Ink Supply System (CISS) for a seamless workflow without the need for ink replacements to delay print jobs. With an efficiently designed ink tank and system, ink refills during print jobs can be easily and effortlessly done, without compromising on efficiency.
Wireless Connectivity
The T-series is integrated with Wi-Fi and Wi-Fi Direct, making it convenient to print right from smart devices from anywhere in the office. The Wi-Fi Direct function acts as an access point, allowing devices to connect directly to the printer without a router. Additionally, the T-series printers come equipped to allow direct wireless printing from any Apple devices through Apple AirPrint*, without the need for any additional drivers.
Control At Your Fingertips
A 4.3 inch touch panel on the T-series gives you the convenience of an easy setup and a PC-less operation that just makes things extra efficient.
Preview Before Printing
Save time and money when you preview your documents before printing, preventing accidental misprints that could otherwise lead to wastage.
Peace of mind

For those who need consistency of print quality every time, even for occasional users, the SC-T3100 has it covered. To ensure the printer's smooth running the Unique Nozzle Verification Technology (NVT) helps prevent misprints.

Accuracy and precision

The SC-T3100 is a large format printer that's designed for accuracy and precision. Print technical, architectural and engineering drawings in great detail, with ease.

Ease of use

In order to allow users to get started quickly and enjoy hassle-free printing, Epson has developed a suite of intuitive apps and features for user-friendly usage.v
Seamless Scan To Print
Scan and enlarge your printouts in just four easy steps without needing to connect to a computer. Using compatible Epson scanners** for the SC-T3130X, you can seamlessly scan and print directly from the T-series printers.
Nozzle Verification Technology
Print without interruptions with the advanced built-in Nozzle Verification Technology (NVT). This technology monitors nozzle health and adjusts print quality automatically without interruption, even during printing.
Anti-dust Design
Incorporating a unique anti-dust design, the T-Series printers require minimal cleaning and maintenance that are required for environments that are traditionally dusty, such as, construction sites.
What's In The Box:
Printer
Initial ink
AC power cable
Setup guide
Software CD-ROM
Maintenance box
Printing:
---
Printing Technology:PrecisionCore Inkjet Technology, Variable-Sized Droplet TechnologyNozzle Configuration:3200 nozzles (800 nozzles x 4 channels x 1 head)Maximum Print Resolution:2400 x 1200 dpiMinimum Ink Droplet Size:3.8plPrint Speed:34 seconds
Ink:
---
Ink Type:Black: Pigment Ink
Colour: Dye InkColours:Cyan, Magenta, Yellow, BlackInk Capacity:140ml
Roll Media Handling:
---
Maximum Roll Diameter:2″ coreMaximum Roll Weight:Max. 110 mm/3kgMedia Width:Roll: 329mm to 610mm
Cutsheet (ASF): A4 to A3
Cutsheet: 210mm to 610mmMedia Thickness:Roll: 0.05mm to 0.21mm
ASF/Cutsheet: 0.12mm to 0.27mm
General:
---
Dimensions:Without Stand (W x H x D): 970mm x 245mm x 577mm
With Stand (W x H x D): 970mm x 245mm x 811mmWarranty:1 YearWeight:29kgMemory:1GB
Printer Details:
---
Options:Stand (24″), Roll Feed Spindle (24″)
Power:
---
Power Consumption:Operating: Approx. 22W
Ready: Approx. 8W
Sleep: Approx. 1.6W
Power Off (Standy by): Approx. 0.2WRequirement:AC 100-240V
Frequency: 50/60HzRated Current:1.4ATemperature & Humidity:Operating Humidity: 20 to 80% (no condensation), Storage: 5 to 85% (no condensation)
Operating Temperature: 10°C to 35°C, Storage: -20°C to 40°C
Paper Handling:
---
Media Thickness:Roll: 0.05 mm to 0.21 mm
ASF/Cutsheet: 0.12 mm to 0.27 mmMaximum Paper Width:Cutsheet (ASF): A4 to A3Media Type:Inkjet Coated Paper, Tracing Paper, Plain PaperSide Margin:3mmAuto-Sheet Feeder:Yes (Up to A3)
Control Panel:
---
Control Panel:4.3″ Touch Screen
Consumables:
---
Maintenance Box:YesAuto Cutter Spare Blade:Yes
Printer Width:
---
Printer Width:24″
Acoustic Noise Level:
---
Sound Pressure Level:Operating: Approx. 50dB(A), Sleep: Approx. 32dB(A)Sound Power Level:Operating: Approx. 7.5B(A)
Connectivity:
---
Included Software:Windows
Install Navi – Printer driver – EpsonNet Setup – EpsonNet Print – EpsonNet Config -Epson Software Updater – LFP Print Plug-in for Office – Epson manuals
Mac Setup NaviPrinter Interfaces:Super-Speed USB
100BASE-TX /1000BASE-T/IEEE802.11 b/g/nPrinter Languages :ESC/P raster HP-GL/2HP RTL